Church Blog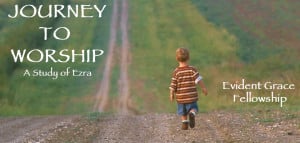 Excitedly, on Sunday, September 7th, Evident Grace Fellowship is launching its new sermon series, Journey to Worship – A Study of Ezra. Why would a young church, or any church for that matter, endeavor to study, what for some might be, an obscure Old Testament book? There are several reasons.
Ezra is a book about a community returning to their homeland to reestablish the worship of God after a period of time where worship had been forbidden. Those that remained at home must now integrate with those returning, and both communities have to manage lots of hopes and expectations. Each hopes for a vibrant life of worship. Each knows their own expectations, but they don't know what to expect from each other.
What an incredibly practical book to study for a young church like Evident Grace Fellowship. We have been meeting for a year and a half. We are a community gathered from many different backgrounds. We too have expectations, and we too are learning to grow and learn as a new community with a new identity. And we are just like Ezra, God is making something beautiful and united out of gathered communities.
Also, as new people visit us and join our community each week, this study will be ideal for them to walk through with us. We are going to see, in real time, the events of the worship in Ezra's time, and we will have so many things to learn from: the good, the bad, and the ugly. (This is your invitation constant reader. Please join us.)
Also, the events of Ezra and its companion book Nehemiah, are the final historical events in the Old Testament that lead up to the work of Jesus. It is an anticipatory historical account. We can look at those days, on this side of Jesus work, and learn so much about the joy promised to a community who now fully understand Jesus work. In that, we as a community can grow in greater worship and commitment to God and to each other.
So, why study this book? Ezra was living on a hope promised. We are living on a hope fulfilled.
This study should take us up to the 2014 holiday season. The good thing about Ezra is that you can join it at any point and time and not be lost, but we encourage you to join us for worship on September 7th to experience our series launch. We meet each Sunday for worship at 1030am at the comedy club above Liberty Lanes, and you can find directions here.  You can listen to any sermon from the Ezra series (along with any other of our sermons) on our sermon page or on itunes
Come as you are. We are neither formal nor casual. And if you desire, we have both a nursery, and we also offer an individual teaching time for children aged 2-5.

I had a wonderful conversation with someone from EG this week, and we were discussing how many churches (and our denomination specifically) have a hard time comforting and caring for folks when they suffer. He described it in this way.
Most churches do not know how to enter into people's hurts.
What an incredible statement…and sadly true. We spent the next hour or so discussing the problem. We came up with an analysis, and I hope in this small post to begin to move us towards addressing how poorly churches (including ours at times) enter into grief. In our discussion, church folks typically respond to hurt, harm, and grief in one of three ways.
The Reformed community says: God is sovereign.
The non-Reformed community says: God has a purpose and plan in everything.
And the non-religious response says: It is what it is.
Each one of these is a simplified expression of deeper truths. Unfortunately, they all shut down conversation.
God is sovereign means that we shouldn't ever dare question what God is doing.
God has a purpose and a plan in everything means that if you wait long enough, either something good will happen or you will figure out what God is trying to teach you.
It is what it is says you aren't in control of much is this world so why keep talking about it.
I think Evident Grace must be a church that offers more. But what more is there? Well, outside of scripture, we don't know the mind of God, so assuming on our part or anyone else's why things are happening is rarely helpful and many times dangerous. So, let me offer a few things that we can do as a church to meet people in their need.
Weep with the weeping – Throwing a party and showing joy when people rightfully have events of joy is great, but we also need to comfort by crying when people cry. So much of grief is the struggle of feeling alone. An appropriate arm of comfort and a shared cry go so much further than empty platitudes.
Be Hospitable – Hospitality is both the opening of our homes to people hurting and the meeting of practical needs to those in need. Hospitality is the meeting of simple needs like clothing, food, and warmth when grief is so great that those needs are neglected.
Neighbor – Neighboring is the constant awareness that you are near to do either of the above two. Neighboring is the offering of one self to another for love and friendship.
While there are other ways to enter grief (feel free to offer some), growing in weeping, showing hospitality, and neighboring communicate care and love to the hurting and represent the love of Christ well.
Christ wept with us and for us.
Christ was hospitable by meeting our need.
Christ was our neighbor because He came to us in our hurt.
Let's pray God grows this in us more and more, so that at least one person will feel comfort and believe that someone has entered into their grief.
As Evident Grace moves into the second half of summer 2014, we are launching a 6-week sermon series entitled "Life Together" on July 27th.
"Life Together" will give a clear picture of what it looks like for us to live out our 3 distinctives: Community, Worship, and Service.
Our series is going to give us the opportunity to explore these "Life Together" distinctives in two different ways.
We are going to explore Community, Worship, and Service by celebrating.
As we study the scriptures, we are going to see that celebrating what God has done is essential to our Community, Worship, and Service. This way, we can speak of the Community, Worship, and Service milestones that God has given us in the past year and half, and we can study and pray specifically about where we might go next.
We have only scratched the surface of the depth of Community, Worship, and Service that we hope for at Evident Grace, so seeing those things as they are presented in scripture and thanking God for what He has done, puts us in the perfect place to pray, plan, and prepare for what comes next.
Celebrating is essential for our "Life Together".
We are going to explore Community, Worship, and Service by growing in Biblical leadership.
As we study the scriptures, we are going to see that growing in Biblical church leadership is essential to growing in Community, Worship, and Service. The scriptures devote a great amount of time discussing what local church leadership looks like with elders and deacons, so we must understand the scriptures well as we move towards recognizing, training, and installing that leadership.
Multiplied and mature church leadership enables our people to be led well and mobilized well.
Biblical Leadership is essential for our "Life Together".
Join us as we study and do "Life Together" beginning July 27th. You can find directions to our service as well as many other details about Evident Grace throughout our website.