All Posts Tagged Tag: 'sermon'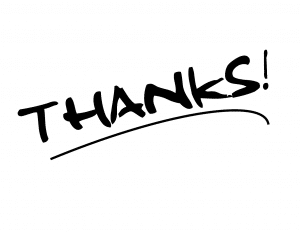 Good Morning Friends,
Typically, this is a summary of this past week's sermon, but Sunday's sermon was brief as was the service.  We did look at Acts 2, and you can find the audio and video online.  We followed the sermon with a beautiful baptism and our quarterly Town Hall meeting.  Look for an email with audio and video links from the Town Hall in the next few days.
Right now, I want to say thank you to everyone at Evident Grace.  We have a beautiful, growing community.  We are blessed with wonderful committed members, lots of newborn, healthy babies, consistent guests, and an ever-growing ministry to the local area.
When I look at our church, I know we need to grow in our worship, community, and service.  I pray for our growth in depth and reach. But I want to remind us that growth best comes as we are thankful for what we have.
If we want our worship to grow, we should remember Psalm 100
Psalm 100:4 Enter his gates with thanksgiving, and his courts with praise! Give thanks to him; bless his name! 5 For the Lord is good; his steadfast love endures forever, and his faithfulness to all generations.
If we want our community to grow in depth and number, we should remember Colossians 3:
Colossians 3:15 Let the peace of Christ rule in your hearts, since as members of one body you were called to peace. And be thankful. 16Let the message of Christ dwell among you richly as you teach and admonish one another with all wisdom through psalms, hymns, and songs from the Spirit, singing to God with gratitude in your hearts. 17And whatever you do, whether in word or deed, do it all in the name of the LORD Jesus, giving thanks to God the Father through him.
If we want our service to grow, we should remember 2 Corinthians 9:
2 Corinthians 9:11 You will be enriched in every way to be generous in every way, which through us will produce thanksgiving to God. 12 For the ministry of this service is not only supplying the needs of the saints but is also overflowing in many thanksgivings to God. 13 By their approval of this service, they will glorify God because of your submission that comes from your confession of the gospel of Christ, and the generosity of your contribution for them and for all others
I love all of you, and I pray your weeks are full of joy and thanks, no matter what God has called  you to do.
I look forward to hearing from all of you this week and seeing you on Sunday.
Pastor Gordon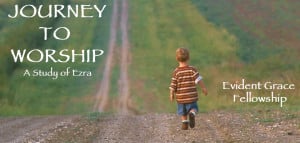 Excitedly, on Sunday, September 7th, Evident Grace Fellowship is launching its new sermon series, Journey to Worship – A Study of Ezra. Why would a young church, or any church for that matter, endeavor to study, what for some might be, an obscure Old Testament book? There are several reasons.
Ezra is a book about a community returning to their homeland to reestablish the worship of God after a period of time where worship had been forbidden. Those that remained at home must now integrate with those returning, and both communities have to manage lots of hopes and expectations. Each hopes for a vibrant life of worship. Each knows their own expectations, but they don't know what to expect from each other.
What an incredibly practical book to study for a young church like Evident Grace Fellowship. We have been meeting for a year and a half. We are a community gathered from many different backgrounds. We too have expectations, and we too are learning to grow and learn as a new community with a new identity. And we are just like Ezra, God is making something beautiful and united out of gathered communities.
Also, as new people visit us and join our community each week, this study will be ideal for them to walk through with us. We are going to see, in real time, the events of the worship in Ezra's time, and we will have so many things to learn from: the good, the bad, and the ugly. (This is your invitation constant reader. Please join us.)
Also, the events of Ezra and its companion book Nehemiah, are the final historical events in the Old Testament that lead up to the work of Jesus. It is an anticipatory historical account. We can look at those days, on this side of Jesus work, and learn so much about the joy promised to a community who now fully understand Jesus work. In that, we as a community can grow in greater worship and commitment to God and to each other.
So, why study this book? Ezra was living on a hope promised. We are living on a hope fulfilled.
This study should take us up to the 2014 holiday season. The good thing about Ezra is that you can join it at any point and time and not be lost, but we encourage you to join us for worship on September 7th to experience our series launch. We meet each Sunday for worship at 1030am at the comedy club above Liberty Lanes, and you can find directions here.  You can listen to any sermon from the Ezra series (along with any other of our sermons) on our sermon page or on itunes
Come as you are. We are neither formal nor casual. And if you desire, we have both a nursery, and we also offer an individual teaching time for children aged 2-5.
As Evident Grace moves into the second half of summer 2014, we are launching a 6-week sermon series entitled "Life Together" on July 27th.
"Life Together" will give a clear picture of what it looks like for us to live out our 3 distinctives: Community, Worship, and Service.
Our series is going to give us the opportunity to explore these "Life Together" distinctives in two different ways.
We are going to explore Community, Worship, and Service by celebrating.
As we study the scriptures, we are going to see that celebrating what God has done is essential to our Community, Worship, and Service. This way, we can speak of the Community, Worship, and Service milestones that God has given us in the past year and half, and we can study and pray specifically about where we might go next.
We have only scratched the surface of the depth of Community, Worship, and Service that we hope for at Evident Grace, so seeing those things as they are presented in scripture and thanking God for what He has done, puts us in the perfect place to pray, plan, and prepare for what comes next.
Celebrating is essential for our "Life Together".
We are going to explore Community, Worship, and Service by growing in Biblical leadership.
As we study the scriptures, we are going to see that growing in Biblical church leadership is essential to growing in Community, Worship, and Service. The scriptures devote a great amount of time discussing what local church leadership looks like with elders and deacons, so we must understand the scriptures well as we move towards recognizing, training, and installing that leadership.
Multiplied and mature church leadership enables our people to be led well and mobilized well.
Biblical Leadership is essential for our "Life Together".
Join us as we study and do "Life Together" beginning July 27th. You can find directions to our service as well as many other details about Evident Grace throughout our website.